Screen Shots
This page shows some screen shots of Styx to give you an impression of the esthetic performance of this game.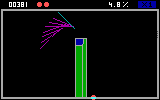 The key players: the ever moving Styx on top, the caterpillar/worm on the right side, chasing for you: the dot on the lower side of the rectangle.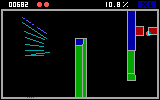 Building prisons (upper right corner) to catch the Styx.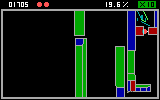 Caught! Proceed to the next level ...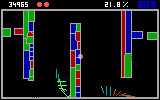 Later levels: get challenged by two Styxes and two caterpillars (moving in opposite directions!).